Living in Baddeck - a Retirement Dream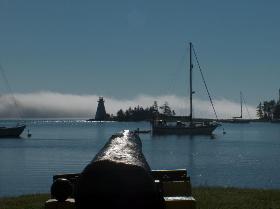 Often described as being in the heart of Cape Breton Island, the village of Baddeck is a frequent stopping point for tourists and a cozy family and retirement community for year-round residents.

So what gives Baddeck its (heart) beat?

Well, for a community with a population of only 1,000 — it's often said there's one hotel, motel or B&B room for every permanent resident of the village — there's more services and ammenities than you might expect. And it's on the doorstep of the spectacular Bras d'Or Lakes, to boot.

First the essentials: there's a state-of-the-art hospital with 24-hour emergency care, a doctor's clinic, a pharmacy, a police detachment, and paramedic base right in Baddeck. And there's grocery, gift, and convenience stores open year-round.

For the golfer, there's the 18-hole nationally-recognized Bell Bay Golf Club, and the 9-hole Baddeck Forks Golf Club, which has just recently undergone some significant renovations.

For the overall sports lover, there is an arena with regular hockey, figure skating and public skating schedules; an active curling club with nightly activity during the winter; as well as badminton and basketball leagues, and various exercise classes. In the summer, swimming, yachting, kayaking, and boating of any kind are popular among visitors and local residents alike.
For the nature lovers and enthusiasts the stunning Cape Breton Highlands National Park is just a stone's throw away, and there are eight protected provincial wilderness areas. Five of them — Middle River Wilderness Area, French River Wilderness Area, Margaree River Wilderness Area, North River Wilderness Area, Trout Brook Wilderness area — are within 30 minutes of Baddeck.

Four rivers, also within a half-hour of Baddeck — Middle River, North River, Baddeck River and Margaree River — are great for fishing, and there's hiking opportunities galore at Uisge Ban Falls in Big Baddeck and at North River Falls, to name just two of many.

The island is also a snowmobilers dream, with the Cape Breton highlands a particularly popular destination.

Baddeck also has plenty to offer for those interested in the arts with regular performances by local bands and singer-songwriters. Entertainment is a regular feature at the yacht club, legion, and a hotel pub which are open year-round. Local artwork and crafts are prominently displayed and featured at several of the gift shops in the village.

As mentioned previously, there's accommodations to suit every taste and budget, and 30+ dining options in and around Baddeck during the peak tourism season (May to October). Year-round there's a few locally-owned restaurants, cafes and pizza shops which stay open.
Baddeck is also just an hour's drive to the Sydney Airport, which is serviced year-round by Air Canada, and seasonally by WestJet. There's daily flights to Halifax and Toronto. And if you're looking to fly directly from an international airport, the Halifax airport is a three-and-a-half drive away.

There's also bus, and car rental services from the village, and the ferry to Newfoundland is just 45 minutes away.

In addition to being a destination on its own — Baddeck is home to the Alexander Graham Bell National Historic Site and is a starting and stopping point for many people traveling the world-renowned Cabot Trail — the village is also close by to all of the island's other main attractions and destinations from Louisbourg to Ingonish, the Margaree Valley to Port Hawkesbury, the North Shore to Sydney. Nowhere is more than a 90-minute drive away.
If you don't find suitable property on our site please check Catherine Harvey Realties, also located in Baddeck, Nova Scotia.
To explore more of Baddeck online, please visit Baddeck's community website www.OurBaddeck.com.